Unity Biotechnology (NASDAQ:UBX) Downgraded to "Hold" at Zacks Investment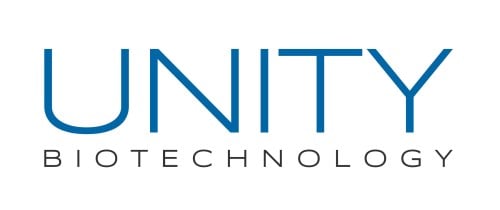 Unity Biotechnology (NASDAQ:UBX) was downgraded by Zacks Investment Research from a "buy" rating to a "hold" rating in a note issued to investors on Tuesday, Zacks.com reports.
According to Zacks, "UNITY Biotechnology Inc. develops therapeutics which prevents, halts and reverses various diseases. The company's product portfolio includes UBX101, is designed to treat musculoskeletal disease with an initial focus on osteoarthritis. UNITY Biotechnology Inc. is based in California, United States. "
UBX stock traded down $0.43 during midday trading on Tuesday, hitting $6.30. The stock had a trading volume of 12,133 shares, compared to its average volume of 955,734. The firm has a market cap of $333.35 million, a PE ratio of -3.37 and a beta of 0.36. Unity Biotechnology has a 12-month low of $2.72 and a 12-month high of $15.44. The company's 50-day moving average price is $6.01 and its 200 day moving average price is $5.58.
Unity Biotechnology (NASDAQ:UBX) last released its earnings results on Wednesday, November 4th. The company reported ($0.52) EPS for the quarter, missing the Thomson Reuters' consensus estimate of ($0.45) by ($0.07). On average, equities research analysts anticipate that Unity Biotechnology will post -1.66 EPS for the current fiscal year.
In other Unity Biotechnology news, President Nathaniel E. David sold 1,700,000 shares of Unity Biotechnology stock in a transaction on Wednesday, December 16th. The shares were sold at an average price of $5.24, for a total value of $8,908,000.00. The sale was disclosed in a document filed with the SEC, which is available at the SEC website. 37.30% of the stock is owned by company insiders.
(Ad)
Most of the world's richest investors totally ignore company fundamentals like P/E ratios. Those metrics have NOTHING to do with what makes stocks rise or fall. One indicator is far more accurate — but less than 1 in 1,000 investors have ever heard of it. This is how wealth is really made in the stock market today.
Institutional investors and hedge funds have recently made changes to their positions in the business. Advisor Group Holdings Inc. lifted its holdings in shares of Unity Biotechnology by 4,646.0% during the 2nd quarter. Advisor Group Holdings Inc. now owns 4,746 shares of the company's stock valued at $41,000 after acquiring an additional 4,646 shares in the last quarter. BNP Paribas Arbitrage SA lifted its holdings in shares of Unity Biotechnology by 554.5% during the 3rd quarter. BNP Paribas Arbitrage SA now owns 7,926 shares of the company's stock valued at $27,000 after acquiring an additional 6,715 shares in the last quarter. Cubist Systematic Strategies LLC acquired a new position in shares of Unity Biotechnology during the 3rd quarter valued at $36,000. DekaBank Deutsche Girozentrale acquired a new position in shares of Unity Biotechnology during the 3rd quarter valued at $44,000. Finally, Arbor Wealth Management LLC acquired a new position in shares of Unity Biotechnology…


Read More: Unity Biotechnology (NASDAQ:UBX) Downgraded to "Hold" at Zacks Investment